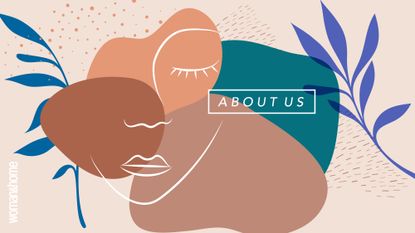 (Image credit: Future)
woman&home newsletter
Sign up to our free daily email for the latest royal and entertainment news, interesting opinion, expert advice on styling and beauty trends, and no-nonsense guides to the health and wellness questions you want answered.
Thank you for signing up to Woman & Home. You will receive a verification email shortly.
There was a problem. Please refresh the page and try again.
Our mission at womanandhome.com is to keep women informed on the subjects that matter to them, so they can live smarter, healthier and happier lives. We publish expertly researched buyers guides, in-depth features and the latest shopping news and deals across fashion, beauty, health and wellbeing and lifestyle.
Everyday our editors examine global events and curate a broad range of stories that inform, inspire and excite readers. Expect a mix of grown-up celebrity and royal news, as well as informative, no-nonsense health and wellbeing features about subjects like the menopause. We'll keep you abreast of relevant medical breakthroughs, and myth-bust around emotive topics like dementia or cancer. Worried about your waistline? We seek out internationally renowned experts to give up-to-date advice on dieting and weight-loss plans, and world famous chefs to delight with their delicious and healthy recipes.
That's not all. We also aim to inspire your holiday plans with safe travel recommendations both near and far. Looking to redecorate or invest in some new tech for your home? We have you covered there too, with our army of fastidious reviewers reporting on the best household gadgets you can buy. And if that wasn't enough, we also filter through the latest fashion and beauty noise to offer you advice on the trends you'll actually want to try - that are flattering as well as stylish.
Woman & Home magazine was first founded in 1926 and Womanandhome.com is now one of the leading women's lifestyle brands, supporting women and inspiring women in the same way our magazine has done for nearly 100 years. We have millions of readers following our content every month. And we're more than just a website. Find us on:
Join our: woman&home book club - a friendly, informed and very active Facebook group, to chat all things books.
You can also sign up to our newsletter here for a daily dose of Woman&Home, straight to your inbox.
Meet our team
Our editorial team has decades of extensive experience in the women's lifestyle media sector. They have worked at some of the leading publications in their field.
Rachael Martin | Digital Editor, womanandhome.com
Anna Paul | Deputy Digital Editor, womanandhome.com
Fiona McKim | Digital Beauty Editor, womanandhome.com
Rivkie Baum | Digital Fashion Editor, womanandhome.com
Grace Walsh | Digital Health Editor, womanandhome.com
Tamara Kelly | Digital Lifestyle Editor, womanandhome.com
How to get in touch
For more information on our team, or to contact them, head to our contact us page.
Our team is based in both the United Kingdom and in the United States.
Our UK office address is: Woman&Home Digital, 121-141 Westbourne Terrace, London, UK, W2 6JR
Our editorial approach
We take great pride in the quality of our content on womanandhome.com. We are impartial, thorough and accurate. We take care to speak to credible experts and examine the latest research findings. Our journalists endeavour to verify all stories being published. If you find an article that you think needs to be improved then please reach out to our Digital Editor, Rachael Martin, by emailing her at rachael.martin@futurenet.com.
For more information on our ethics, integrity and how we research our guides, see our page on how we test and vet products for our audience.
FAQs
Is Woman and Home a monthly magazine?
Woman&Home is a British monthly magazine and has been in circulation since 1926. The woman&home website, womanandhome.com, is updated and added to daily.
What age is Woman and Home magazine aimed at and who is the target audience?
Woman&Home explores the lives of and celebrates women in their 40s and older, taking a frank look at the issues they face and providing solutions to help make their lives easier, happier and more fulfilling.
The mission of woman&home magazine is to allow women to celebrate, inspire and support each other, offering thought provoking reads and stories about midlife women breaking barriers and living their best lives. The magazine's fashion and beauty is for real women and includes skincare guides, make-up ideas and hair specials. Other pillars include inspiration for home and garden, food pages with everything from show-stopping bakes to smart dinner party ideas and easy midweek suppers; and travel pages featuring all the trips readers dream of, from local gems to bucket list adventures. The authoritative health pages are relevant to women in the 45+ demographic. The books section features reviews, interviews and occasional short stories.
While the magazine largely speaks to a British audience, it does have readers around the world and womanandhome.com speaks to women worldwide. An edition of woman&home is published in South Africa and an export edition is sold worldwide.
Who owns Woman and Home magazine?
Woman&Home magazine and womanandhome.com are owned by Future PLC, the publishing house behind over 170 successful brands in specialist consumer and B2B sectors. Discover more about Future PLC.
About Future PLC
Womanandhome.com is part of Future PLC, the publishing house behind over 170 successful brands in specialist consumer and B2B sectors including: technology, gaming & entertainment, music, creative & photography, home interest, education and television. Every year at Future we attract millions of consumers to our brands' websites, magazines, events and social spaces.
Code of conduct
Womanandhome.com is a member of the Independent Press Standards Organisation (which regulates the UK's magazine and newspaper industry). We abide by the Editors' Code of Practice and are committed to upholding the highest standards of journalism.
If you think that we have not met those standards and want to make a complaint please contact us by calling 01225 442244 or writing to us at Future Publishing, Quay House, The Ambury, Bath, BA1 1UA, UK. If we are unable to resolve your complaint, or if you would like more information about IPSO or the Editors' Code, contact IPSO on 0300 123 2220 or visit www.ipso.co.uk.
PRIVACY POLICY
Woman&Home is part of Future PLC. We adhere to a strict privacy policy, which complies with local laws. Please see the official Future Plc privacy policy page to find out more.
Affiliate & Advertising disclosure
We always aim to provide unbiased editorial created by our journalists and writers. We also need to pay our teams and website costs so we make money in a number of ways. We sometimes use affiliate links to products and services on retailer sites for which we can receive compensation if you click on those links or make purchases through them. From time to time we also publish advertorials (paid-for editorial content) and sponsored content on the site. When this is the case the content is clearly marked as sponsored or promoted, so you'll always know which content is editorial and which is not. Future PLC is our parent company and has an in-depth terms and conditions page with a lot more information that you can read right here.
Sign up to our free daily email for the latest royal and entertainment news, interesting opinion, expert advice on styling and beauty trends, and no-nonsense guides to the health and wellness questions you want answered.